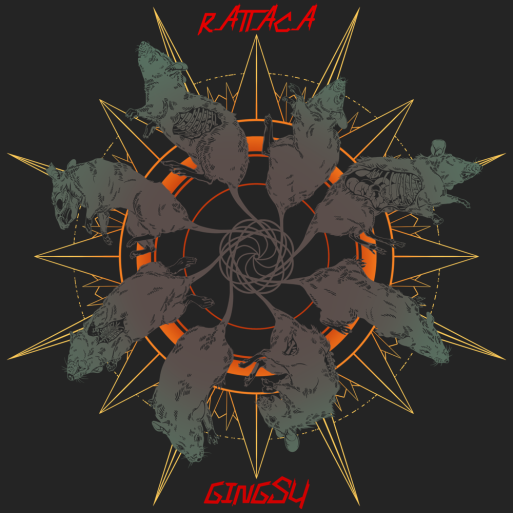 A LITTLE WRITE-UP OF OUR RECORD!
By Caleb Paust
Yes, drummer of GINGSU. I wrote this write-up of our record. 
Dear reader,
We knew from the beginning that no one was going to review this album. We are hooligans with no clout, but since we appreciate your guys' endless support and wanted to give y'all something to go along with the release of our debut album, here's a little essay, chock full of minute details from the making of these songs and this record. And obviously, my opinions are in here. So, without further ado, I present the OFFICIAL RATTACA COMPANION PIECE! 
SONG-BY-SONG BREAKDOWN
I JUST WANT YOU 
The opening track of our debut album is, at least on my part, heavily inspired by what can be called the "2010s feel good indie anthems". Think Grouplove's happy-go-lucky harmonies, Fitz and the Tantrums' uptempo jams, or, I don't know, maybe something by The Strokes? Hopefully I'm keeping up with the times. 
As is customary with many of our songs, the main guitar riff came first, followed by a vocal melody, which in this case was the chorus. Quin had the idea of doing a rhythmic displacement of the guitar/bass riff for the verse to give it a kind of glitchy quality, inspired by drum-and-bass beats. James had envisioned the big buildup in the bridge and even penned the titular lyrics. It worked out perfectly, since we wanted to incorporate more harmonies in our music, and apart from the dual vocals on "Road Song", we hadn't really explored a lot. As we started working on this song, it became clear pretty quickly that the cocaine-addled instrumentation provided a really cool backdrop for a dynamic duet. 
I don't think we've ever written a song quite as poppy or happy-sounding as this one, and I think that's one of the reasons it felt so fitting to put this one out as one of the two lead singles alongside the groove metal tune. We really like doing things that seem irreconcilable, probably because we like to make it as hard as possible for someone to label us!
MOMMY ISSUES 
Interestingly enough, this tune was originally intended to be the first GINGstrumental! After hearing the whole guitar part, we thought it might be too dense to be paired with vocals, or at least that it might not have been optimal to include them when we could let the guitar shine without competition. Quin, however, proposed having some "hype-man", EDM-inspired lryrics with a more rhythmic feel, purposefully letting the guitar still have the limelight. It set the tone for a different type of song than the one we were initially anticipating, but I think we'd all very much agree that was for the best. 
The second I heard James play the guitar intro for the first time, I knew it would make for a standout track. One of the notable things about James is his ability to create these technically demanding parts that are highly memorable and often singable. I may be biased, but I find his parts consistently interesting and extremely layered, and I think "Mommy Issues" is a really phenomenal showcase of a person who sometimes flies under the radar in Gingsu (though not for lack of musicianship, that's for damn sure!). 
Fun fact: This was one of the two songs we recorded in the studio with a click track. Much of our music doesn't usually benefit from a beat-controlled setting due to all the subtle tempo changes; this song, however, needed that consistency and since we always want to do whatever best serves the song, I happily resigned myself to an evening with my lifelong frenemy: the metronome (shudder). 
FEED TO ME 
We've reached the ska song! I love a nice 2-minute banger, and this is one of my personal favorites in our discography and probably my favorite Gingsu drum part on record. I think this was the most polarizing song idea anyone has ever brought to the table, rivaled only by the closing number on this album (more on that later). There's just something about ska that really seems to get people riled up, like it's just too…too…I really can't put my finger on it. I love it, so I don't give a shit either way! 
This song came together pretty fast over the course of about three or four rehearsals in November of 2020; however, some of my favorite moments on the recording came only once we were sitting the studio, including the vocal harmonies on the choruses and the guitar licks on the second verse. If you want a slice of nostalgia, you should check out the video of us performing this tune on the Venice boardwalk in May of last year to see how much it's come together. It can be found on our YouTube channel. 
Fun fact: This song features my personal favorite Quin Seely lyrics. 
This was the second song we recorded with a click, predominantly because we had a lot of parts to layer and needed it to be spot-on. The horn parts in the bridge and final chorus were arranged by Dmytro Gordon (LA-based composer/arranger extraordinaire).
Since I already mentioned that this is my favorite drum part of any Gingsu song, I would be remiss not to further expand on exactly what makes it so. I got to incorporate some of my favorite styles just within these two minutes, starting with my Max Roach-inspired latin groove right at the top of the first verse. If you listen closely in the second verse, you'll hear my slightly modified (only slightly!) bossa groove, which feels like a little easter egg as a drummer from a non-rock background. I also will not miss any opportunity to give you my Ringo-on-crack beat, so I'm really in heaven playing the choruses/bridge in this song. And there's even a little double kick, but not enough for you to realize I'm not so good with a double kick! 
PUSH 
This song is the OG. It is the first song we ever wrote as a band back in August of 2020. At the time, I'm not sure anyone could foresee the kind of tunes we'd be putting together in one to two years' time, but I remember distinctly feeling like "well, at least this is a good song." James has said many times that hearing the work we had started on "Push" prior to his arrival was what made him have an initially positive bent regarding our potential as songwriters, so that's gotta count for something. 
A little Gingsu history for you: when Quin contacted me through Facebook after my previous group disbanded in May of 2020, he sent an extremely rough demo of the verse of this song that he had been working on with our former guitarist Brandon (who is a dear friend to the band and contributed quite a bit to the early songs). Upon hearing these demos, I met up with the two of them, as well as a bassist. We wrote a lot of this song in someone's bedroom and I do think at that time I had a hunch it would be positively received. We joked about the emo qualities of the tune, but had a feeling the KROQ crowd would dig it and that time I think we were universally leaning towards that general style. We really couldn't have predicted the bizarre directions we would take with the rest of our material. 
I think my two favorite parts of this whole song are the sections where we all match up on the offbeats for two measures in both the second verse and final chorus. When James played it with the drum part for the first time, I thought it was really unexpected and moved the listener in a very dancy way, as opposed to solely the drummer breaking up the standard groove with a not at all uncommon rhythmic shift. I still feel that way listening to it now, and I'm glad we kept it in there all this time. When we play that part live, the audience seems to take to it quite sincerely. It's just one of those moments that honestly feels electric, especially when I look over to my left and see Michael's animalistic stomp every time, without fail. 
RIVER 
This is a pretty sentimental drum part for me, since I took inspiration from my jazz instructor Luca Santaniello (amazing Italian jazz drummer, do yourself a favor and look him up). It was seventh grade and I was learning some standards, namely "St. Thomas", for my summer ensemble. Luca showed me a slick, simple rumba, and eight years later I disfigured it into the main groove you hear on this track. This drum track is sort of my homage to a mentor during my formative years, regardless of whether or not he still remembers me! 
To me, the meat of "River" lies in the catchiness of that freaking guitar riff. This was actually the first and only Gingsu song that was written on top of an already existing drum part. I think that probably gave James a unique point of entry. 
Another crucial element of this song is the elegance of those verse vocals and how they morph so dramatically into those explosive "take me down to the waterline!" cries. I think it shows Quin at his best, both in terms of dynamics and mystique. There's a theatricality to "River" that comes through even without the visual spectacle of live performance, and I think that's entirely because of the delivery and how well the dynamics are maintained throughout. 
This song in particular has a bass part that's more supportive than demonstrative, which I love, especially because the density of the instrumentation is so intense even in the quiet sections. I never feel like there's too much competition happening, but that everything is slithering (see what I did there?) in and out of everything else going on at any given time. There's a lot of motion in this tune, and it's delightfully eery. 
No, obviously this song was not recorded with a click track. Are you nuts? 
MOSQUITO BREEDING PIT 
In my opinion, this is the second biggest outlier on the album stylistically (behind, you guessed it, track no. 3). I believe it's the only song to feature triple-tracked guitars and a hell of a lot of distortion as well as the only one to have an extended odd-time section. 
This song took a couple weeks to write, with the bridge being the most time-consuming section. We didn't want to do anything too predictable, so we opted to shift gears from the nu metal vibe of the first half of the tune. We invoked a more progressive beginning of the bridge, and wrapped it up with this almost Volbeat-esque melodic guitar riff leading back into the final chorus. I remember the first time we played the final double time chorus at least one of us mentioned getting Misfits vibes. It wasn't me, but after three thousand listens, I think I'm finally starting to hear it! 
When we went to track this tune, we knew it was going to be the first single on the record so we were very cognizant of how we were going to be presenting ourselves. "Rattaca" was going to be the debut of a more professional image and sound, and we needed to have the receipts to justify this huge financial commitment. For this song, we triple tracked the guitars, the toms, and the backing vocals, which even sounded like the Beastie Boys for a hot minute before we toned them down. When we heard that wall of sound in studio at the end of the session, we were blown away by how massive everything felt. 
The reception to MBP was so positive that we went into the rest of the recording process completely sure that we were going to get a product that, at the very least, we and our fans would be blasting for a long time! 
WAITING GAME 
Although we don't like to take ourselves too seriously, there's still a time and place for rumination in our music. This seven-and-a-half minute song reflects our most somber inclinations, both musically and lyrically. 
This was also by far the longest time we've spent working on a song, clocking in at around six months in total to come together. I don't think everyone was really on board in the beginning, but we kept chipping away at the tune and eventually came up with a working arrangement, one built around this insatiable guitar melody. 
In April of 2021, a friend passed away after a long battle with addiction, and I wrote these lyrics as a sort of tribute to her family, who were grappling, as is often the case in these situations, with dual feelings of anger and heartbreak. It was such a cathartic experience, and I hope these words bring comfort to someone who may need it. It's also been pretty rewarding to see the song grow from a little, melancholy verse to this grand rock-n-roll elegy. 
In order to not beat into the ground the feeling of a slow burn, we consciously kept the tune uptempo, even in the soft sections. This is especially true when the cross-stick beat kicks in to underscore the bass solo + second verse, which is where we felt the song really needed to pick up to avoid boredom within the crowd. Speaking of the bass solo, Michael really knocked it out of the park with the subtleties here. A bass solo you can sing is no common feat in popular music, and I'll stand by that opinion until proven otherwise! 
The key change was a little daring, since we hadn't experimented with any of those in our music until that point. But we figured that "Waiting Game" had boldness written all over it, so why not keep the trend going throughout the song and end it on a striking key change that immediately charges into a three-minute guitar solo? Seems pretty Gingsu, if you ask me. 
I had always envisioned the song beginning and ending with the first verse, so I was very pleased when James returned to it in the new key. Coupled with the vocals, I can't imagine a more haunting way to end the whole thing. Some might consider it a "downer ending" for our first album, but what song was going to follow "Waiting Game"? 
YOU MADE IT! 
Well, my friends, not only did you make it through the whole album but you read this whole novella I typed out for you. Holy shit, that's real dedication. I've really maxed out in terms of my typing ability at the moment, so I'll leave you with this: We love you, we appreciate you, and we can't wait to continue this journey with you. 
From the bottom of our hearts: 
THANK YOU.